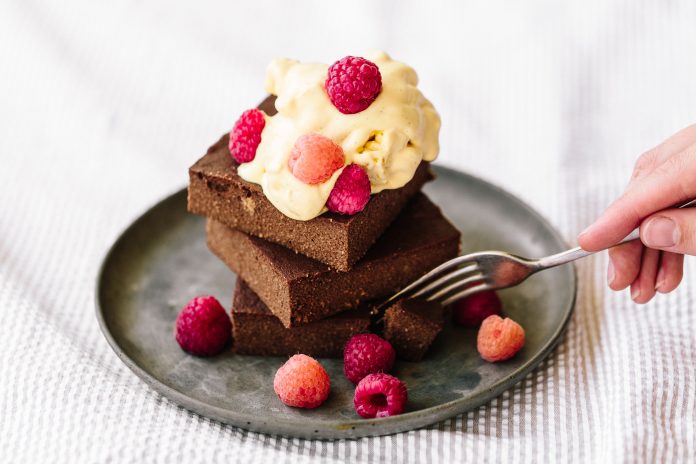 The following recipes are Gluten, grain, nut, and sugar-free, it can also be dairy free if you use coconut oil instead of butter or ghee. It's also keto and paleo friendly. 
Gluten-Free Coconut Cake
Ingredients
1/2 cup coconut flour, sifted

1/2 tsp baking powder

2 tsp apple cider vinegar

1/3 cup butter, 

coconut oil

 or 

ghee

, melted

2 tsp 

vanilla powder

1/2 – 3/4 cup 

chocolate powder

6 organic eggs

A pinch of salt

I used stevia to taste, but use your preferred sweetener – start with 1/3 – 1/2 a cup add gradually add in your sweetener until you reach your preferred sweetness

2-3 x strong 

bulletproof espresso 

shots (roughly 50-80ml) or use 

decaf coffee

 (if you can't tolerate much caffeine, especially if you want this for dessert)
Method
Preheat the oven to 180C. Grease and line a cake tin or slice tin with baking paper. 

Add all the ingredients to a blender or thermomix and blitz to combine. 

Taste the mixture and adjust any of the flavours if needed. 

Pour the mixture in the pre-prepared tin evenly. 

Place the cake in the oven and bake it for 25 minutes, or until cooked to your liking. 

When it's done, remove it from the oven and allow it to cool in the tin for 15 minutes, then transfer it to a wire rack (you can keep it wrapped up in the baking paper. 

Serve with 

'Bulletproof Vanilla Bean Ice-cream' 

or the 

'Chocolate Bulletproof Ice-cream'

version + some fresh berries. 
Vanilla Bean Bulletproof Ice Cream
Serves 4
Ingredients
This recipe is a slightly adapted version of Bulletproof's 'Get Some Ice-cream Recipe'

Serves 4
4 organic, free-range eggs
4 or 5 organic, free-range egg yolks
1 tsp apple cider vinegar
100g grass-fed butter or ghee, melted
50g cacao butter, melted
50g coconut oil, melted
30-50g sweetener of choice (or less or more to taste) (stevia, pure maple syrup or honey)
50ml filtered water (or ice)
2 tsp vanilla powder
Method
Add all the ingredients (starting with 30g of your chosen sweetener) into a high-powered blender or Thermomix and blitz together for 1-2 minutes.
Taste the mixture and adjust the sweetness by adding a little more if needed.
Pour into an ice-cream maker and churn for 15-20 minutes.
Serve and enjoy this incredibly nourishing and delicious ice-cream.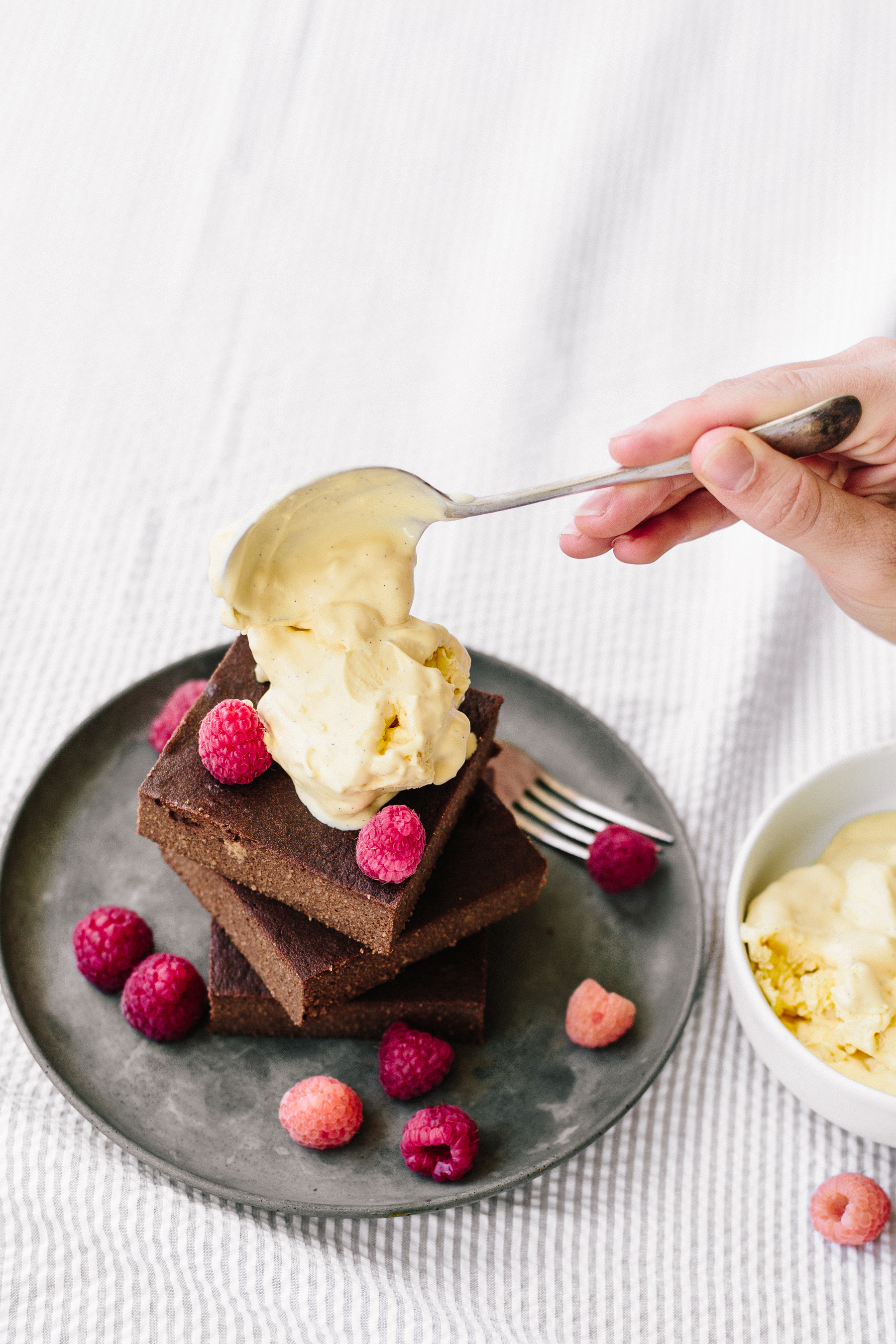 Credit
Jordan Pie
Holistic Qualified Nutritionist + Certified Gaps Practitioner.