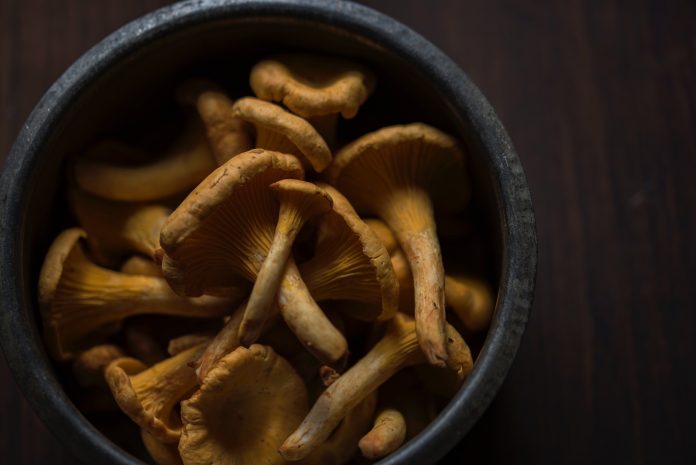 This post is about mushrooms.  The good, legal kind and not the kind that make you hallucinate!  Mushrooms (or shrooms as they are often referred to) are gaining popularity in the health and wellness field and their benefits are becoming more widely known.  Or, more accurately, people are rediscovering these ancient superfoods and incorporating them into their diet to increase their performance and overall health.
Mushrooms have traditionally been consumed by ancient societies as herbal tonics and medicines.  They have been a staple of Traditional Chinese Medicine for centuries and are still used today in many Asian countries, Europe and Russia.  Mushrooms are classified separate from plants as fungi and (in the wild) absorb nutrients from other organic matter.  Mushrooms have co-evolved beside humans and we shared a common ancestor 1.1 million years ago.  Interestingly, the DNA structure of mushrooms is closer to humans than it is to plants!
So what makes mushrooms good for me?
Mushrooms are rich in beta-glucans, which are naturally occurring polysaccharides.  These soluble fibres help to stimulate the immune system.  Mushrooms are also rich in vitamin D, iron, calcium, zinc and magnesium and many other minerals and antioxidants.  Studies have shown that mushrooms can help reduce total cholesterol and LDL cholesterol, stabilise blood glucose levels and reduce patients risk for cardiovascular disease and diabetes.  They also boost metabolism and affect the hormones that regulate appetite – assisting with weight loss.
Chaga
Chaga is one of the most widely researched medicinal mushrooms.  It grows in the wild on birch trees in colder climates.   It has a mutually beneficial relationship with its host – helping the birch tree to grow and thrive, whilst also relying on it for nourishment.  Chaga is renowned for its antiaging and anticancer properties.  In parts of Siberia where it's consumed regularly as a tea, the incidence of cancerous diseases is lower than in other regions.  Chaga is also an immunomodulator (meaning it can strengthen the functioning of the immune system) and is often used as a supplementary treatment for cancer and HIV patients.
Reishi
Reishi is referred to as the mushroom of immortality and is also widely researched.  The spores of Reishi contain triterpenoids, which are believed to be the main active constituents responsible for the medicinal benefits of this mushroom.  Reishi is a powerful adaptogen, meaning it promotes homeostasis in the body and can help us deal with stress.  Like Chaga, it also strengthens the immune system and is protective against free radicals (compounds which cause inflammation and oxidative damage in our bodies).  Reishi is also known for its antioxidant, anti-inflammatory and anti-fatigue properties.  It helps to calm the nervous system and promote good sleep.  Research has found it to be effective in inhibiting the spread and migration of breast cancer cells and prostate cancer.
My personal experience with superfood mushrooms:
I've found that adding mushroom powders to my diet has boosted my energy and given me an overall sense of wellbeing.  I've been feeling more motivated and generally happier.  I've also felt a greater sense of connection with nature and feel somewhat more intuitive.  Whatever it is, I've thoroughly enjoyed the benefits I've experienced from consuming superfood mushrooms daily and they have now become a staple of my diet.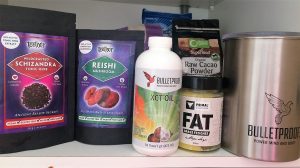 Bulletproof Mushroom Coffee
I've been adding mushroom powder to my morning bulletproof coffee for an extra energy and cognitive boost.  The powder mixes in nicely and I've found it doesn't affect the flavour of the coffee.
Ingredients:
1 cup brewed Bulletproof coffee
1 tsp ghee
1 tsp XCT or Brain Octane oil
1 tsp mushroom powder (Chaga or Reishi)
Method:
Add all ingredients to a blender and blend until frothy.
Mushroom Tea
Mushrooms can also be enjoyed on their own as a tea.  Simply add ½ – 1 tsp mushroom powder to water that's just off the boil.  The flavour of the mushrooms is quite strong, so you may want to add a natural sweetener (such as xylitol, stevia or raw honey), and/or a dash of coconut milk or almond milk.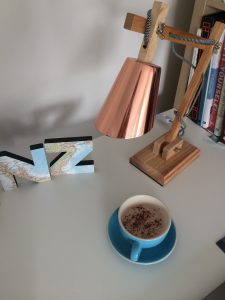 Mushroom Hot Chocolate
If I feel like an afternoon pick-me-up or a warming tonic before bed, I'll make a mushroom hot chocolate.  The earthy flavour of the mushroom is hidden by the rich taste of the cacao powder.  You could experiment by adding other nourishing superfoods including ginger, turmeric and/or cinnamon.
Ingredients:
1 – 1 ½ cups of unsweetened coconut milk or almond milk
1 TBS cacao powder
1 tsp mushroom powder (Chaga or Reishi, or ½ tsp of each)
1 tsp vanilla powder
1 tsp – 1 TBS xylitol (depending on your preference for sweetness)
1 TBS nut butter (my favourite is cashew butter)
1 TBS coconut oil or XCT/Brain Octane oil
Method:
Add milk to a small saucepan and place on the stove over low heat.  Stir gently until warmed.
Add heated milk and all other ingredients to a blender.  Blend until frothy.
Serve with cinnamon sprinkled on top.
Buying Superfood Mushrooms in Australia
Wild harvested or organically grown mushrooms are best and will provide the greatest health benefits.  When buying mushroom powders, you want ones that are dual extracted (with hot water and fat soluble compounds).  This is so all the bioactive components of the mushroom can be absorbed.
Four Sigmatic is a US company whose mushroom powders are available through Optimoz.  They are sourced from wild harvested or organically grown mushrooms that are lab tested to ensure their quality and safety.  My favourite is there mushroom coffee sachets which are convenient and super tasty.
Teelixir is an Australian company whose Chaga and Reishi mushroom powders I've personally tried.  Owners Daniel and Julze are particular about where they source their mushrooms and this is evident in the taste and quality of their products.  They have free shipping on all orders in Australia, offer discount codes for reviews, and regularly have specials (e.g. buy one get one free for mother's day).  They also have lots of information about mushrooms, tonic herbs and superfoods (and their benefits) on their website, as well as amazing recipes.
Herbosophy is an Australian website that sells a wide range of traditional herbs ad supplements in capsules, as a loose powder and/or dried herbs.  They have a fantastic range, fast delivery and quality sourced ingredients.  They also offer discounts for bulk orders, so you can stock up on all your favourite tonic herbs and mushrooms.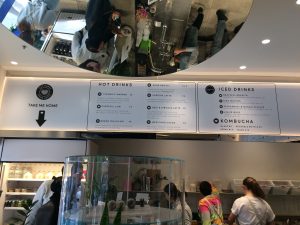 Superfood mushrooms are also beginning to pop up in cafes and mushroom lattes are becoming popular.  I've tried one at Matcha Mylkbar (72A Acland St, St Kilda, Victoria) and Happy Place by Lola Berry (pictured above) at the South Melbourne markets (322-326 Coventry Street, South Melbourne, Victoria).  Both were super tasty!  The Branches Coffee Roasters (9-11 Towers Drive, Mullimbimby, New South Wales) also apparently sell a mushroom coffee and MOM café (386 Malvern Road, Prahran, Victoria) sells a Reishi mushroom soup which is available as a take-home meal.  I predict mushrooms will become more and more popular in health-conscious cafes and restaurants.  Move over acai bowls and turmeric lattes – mushrooms are the new superfood in town!
Have you tried superfood mushrooms before?  What is your favourite way to consume them?  We'd love to know so please leave a comment below!