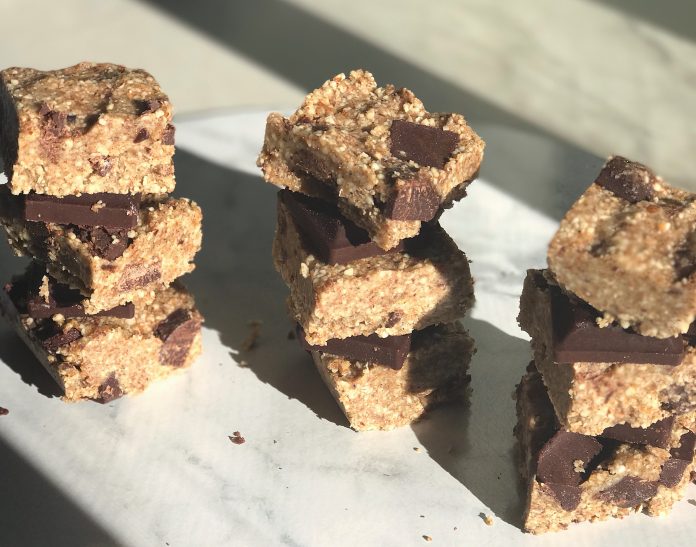 Recently, my sister asked me to make a Raw Cookie Dough cake for my nephews 2nd Birthday. From birth, he's had a very healthy, high in good fats, Paleo-ish diet, so I was excited to construct a special cake for the little guy (that would also nourish his body). This is how the Raw Cookie Dough Slice came about.
Ghee, how I love thy. There is something incredibly comforting about this golden fatty goodness. It is nourishing, healing and has a caramel taste when added to desert recipes. Rich in Vitamin A, D, E and K, ghee (unlike other oils) is full of butyric acid, a short-chain fatty acid. Beneficial intestinal bacteria convert fibre into butyric acid and then use that for energy and intestinal wall support. Therefore, a healthy body makes its own form of 'ghee' but you can aid that process by consuming it.
All ghee isn't created equal. Ensure you are using grass-fed ghee to get the full health benefits.

Cacao butter is the base of the chocolate chunks. My friend described cacao butter as "something you smell and you know that everything is going to be okay." I couldn't have explained it any better myself. Cacao butter has been found to improve heart health, increase immunity and is a fantastic body moisturiser (also working from the inside out).
Okay now to the good part: 
Raw Chocolate Chunk Cookie Dough
Ingredients: Dough
2 Cups Almond Flour

4 TBS Grass-fed Ghee
A pinch of Himalayan Salt
1-2 Tbsp 

XCT Oil

or Brain Octane Oil
4 dates, soaked
1-2 Tbsp of sweetener of choice (raw honey or pure maple syrup)
½ Tsp baking soda
Ingredients: Chocolate Chunks
2 Tbsp Sweetener of choice
A pinch of Himalayan salt


Method
Add cacao butter to a small saucepan and melt over low heat or add to cacao butter to Thermomix (temp 37, speed 1) for 10 mins

Add remainder ingredients, mixing until well combined

Pour chocolate into a lined tray or silicon moulds and place immediately in the freezer whilst you make the dough

Add all dough ingredients to a food processor and blend until a cookie dough texture is formed. You may need to scrape down the sides of the bowl a few times

Remove chocolate from freezer and cut into chunks

Fold choc chunks into cookie dough

Press into a lined baking tray and place in freezer to set

When ready, slice into squares and enjoy!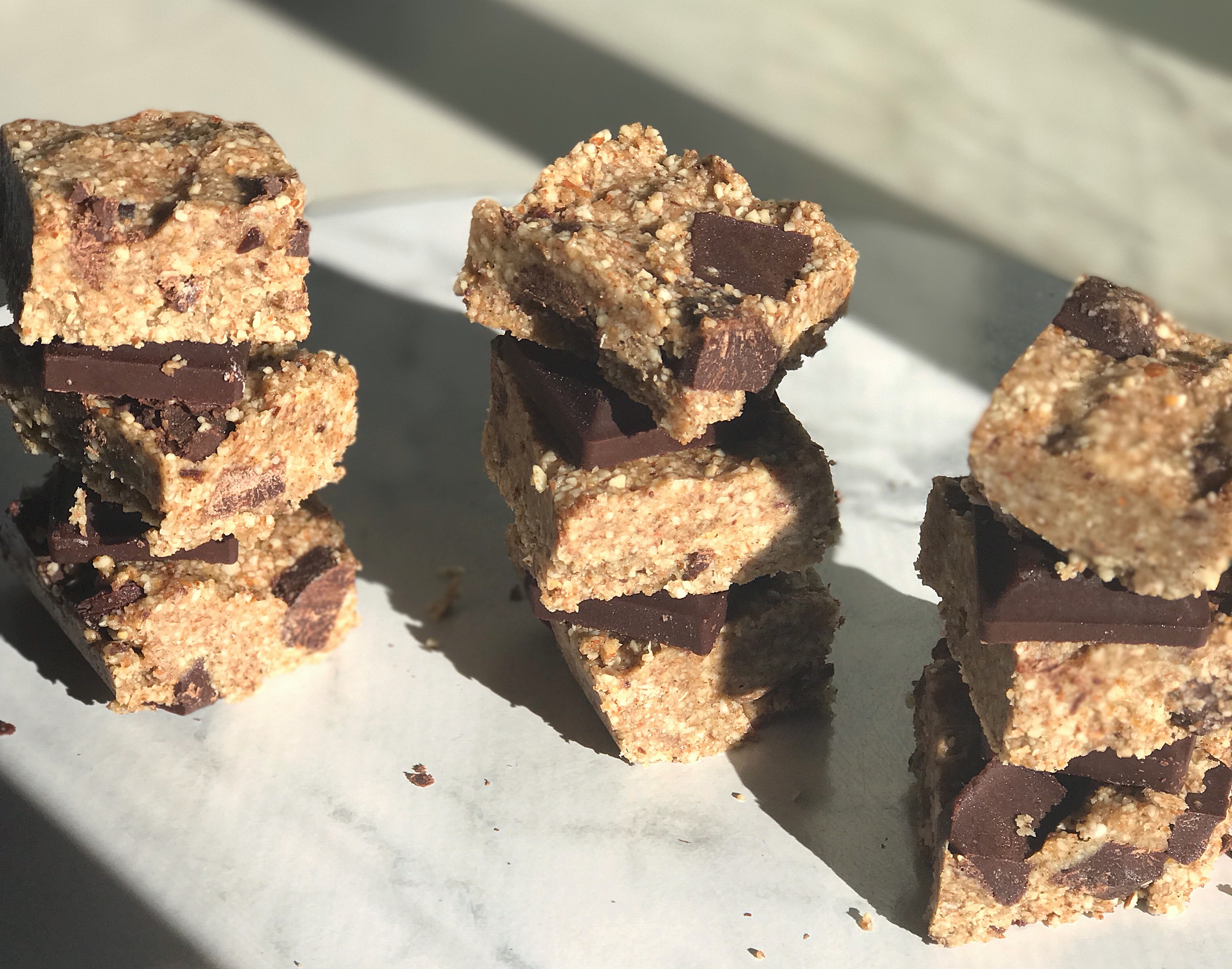 Credit
Nourished by Natajshia
Summary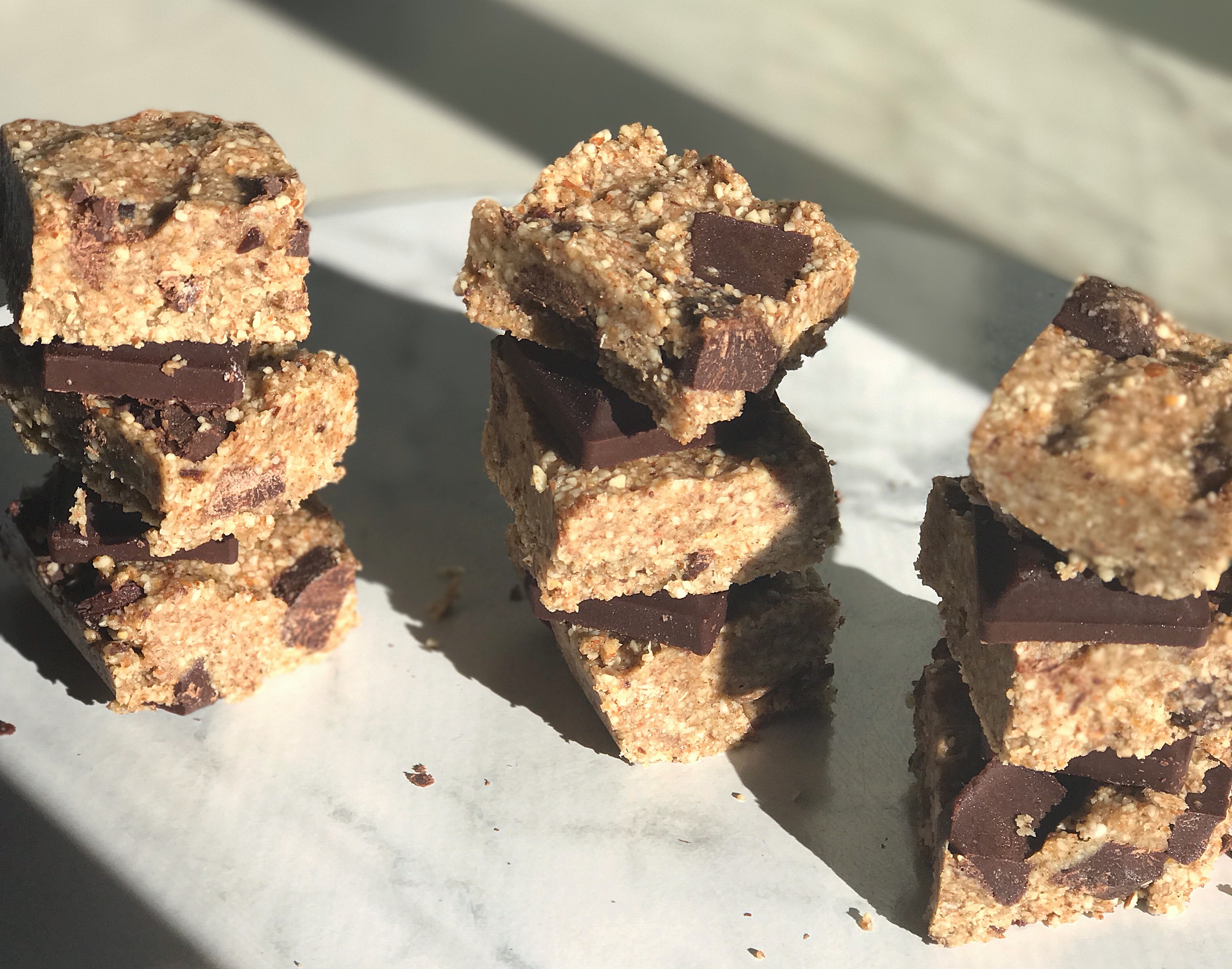 Recipe Name
Raw Chocolate Chunk Cookie Dough
Published On
Preparation Time
Cook Time
Total Time