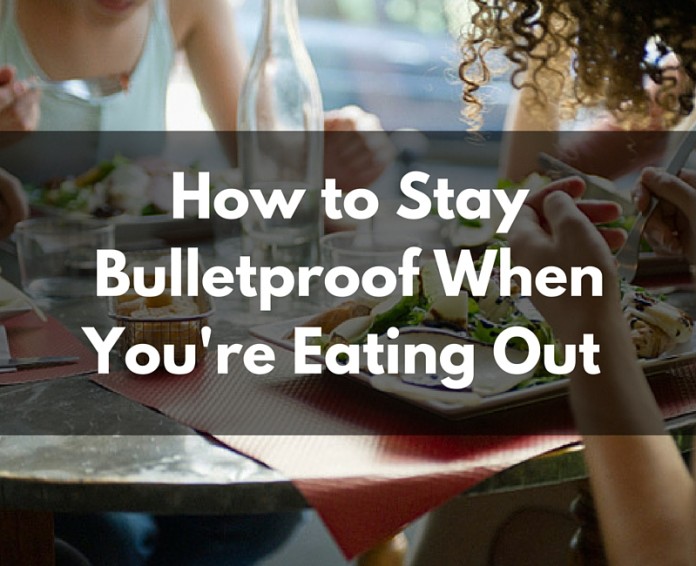 We all like to eat out, whether it be with friends, families or work colleagues. I love trying breakfast at the new cafes that are popping up all over the place and having mid-week dinners with my girlfriends. However, navigating a restaurant menu to find a healthy choice can be difficult, time-consuming and (as my partner tells me) annoying to the people you're eating with. The following are my top tips for staying Bulletproof when eating out:
Read the menu online.
If you know ahead of time where you will be dining out, read the menu online before you go. It might sound silly, but trust me, it's much better to find the bulletproof options beforehand rather than have your partner or friends rolling their eyes at you every time you start picking apart what's on offer. You could also make the decision as to where you would like to go. That way you can enjoy a meal you know will be paleo friendly and your friends, family or work colleagues will be getting a healthy feed too.
2. Stick with meat, veggies and healthy fats.
As is the basis of the bulletproof diet, I try and stick with meat, veggies and healthy fats when dining out. I generally avoid sauces and salad dressings. If you want to be polite you can just ask for these items on the side.
3. Ask about the cooking method and ingredients.
Yes, I'm that annoying person who has a million questions when ordering at a restaurant!  But with the rise in popularity of low sugar and gluten free diets, I find more and more people are doing this and these days it's becoming the norm (at least I think so!). So don't be afraid to ask your server how something is cooked and exactly what is in the meal you are are ordering. If they are unsure, they can always ask the chef and that way you know exactly what you are eating. When ordering, I usually start by saying, "Sorry for being difficult, but …" I find that most of the time people are helpful and accommodating. They could also be spitting in my food, but hey, guess I'll never know!
4. Take activated charcoal.
As discussed in my last post, I usually take 2 capsules of Bulletproof upgraded coconut charcoal before (and sometimes after) eating out.  Despite all your best efforts, you may end up eating something that isn't totally bulletproof.  You never really know how fresh the ingredients are or what type of fats or oils your food is being cooked in.  So I use this as a safeguard against any toxins that might be hiding in the meal I consume.  It also acts as damage control if you decide to indulge in something you wouldn't usually eat (we're all human and this happens even to the best of us).
To help get you started, I have listed below some of my 'go to' meals when eating out: 
Breakfast: My signature breakfast order is poached eggs, avocado and smoked salmon.  Some cafes will allow you to do a plate of sides, which usually works out cheaper than ordering a normal meal. Or some places include a "build your own" breakfast option. You can always ask to switch out the bread for veggies (however some places will charge you extra for this).
Italian: Yes, you can still stay Bulletproof even at an Italian restaurant! I usually order steak and veggies, or a salad (no sauce or salad dressing of course). The other week I even ordered a vegetarian pasta without the pasta and asked them to make it more of a salad. It came out as roasted veggies and salad greens and was absolutely delicious! Also, most (legit) Italian restaurants will have a good quality olive oil which you can order as a side and drizzle on your meal to increase your healthy fats.
Mexican: I generally pick a salad with no beans or dairy (cheese or sour cream), or fajitas without the wraps (ask for lettuce instead). Guacamole on the side is a must!
Asian food: To stay bulletproof when eating at an Asian restaurant I'll go for steamed/baked fish with steamed white rice. Other good options include sashimi or stir fry veggie dishes (I ask for gluten free). When eating sushi, I usually take along some Brain Octane and (sneakily) pour some over my meal.
To give you an idea, some of my favourite places to eat out in Brisbane include Paleo Café and Primal Pantry (they both serve bulletproof coffee!). I also love Grill'd (nothing beats a burger with no bun) as they use grass-fed beef and lamb.
What is your favourite bulletproof restaurant or café? Do you have any tips for staying bulletproof when eating out? I'd love to know – please leave a comment below!