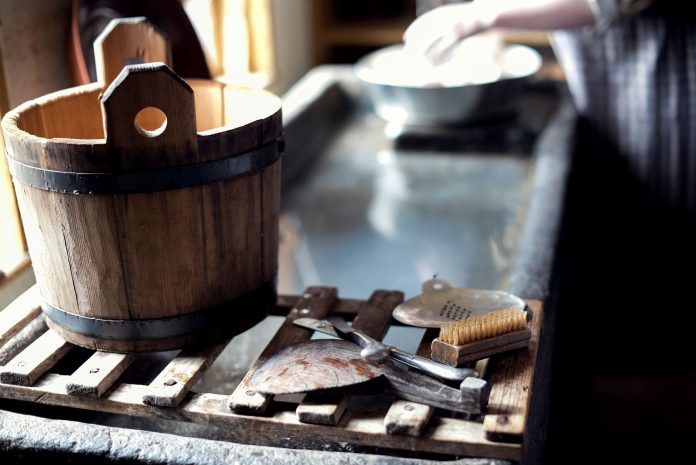 Many household cleaning and laundry products are filled with toxic ingredients.  Most popular brands of laundry detergents, washing up liquid and cleaning sprays contain a vast array of ingredients which have been found to be associated with asthma and bronchitis, allergies, hormone disruption and even cancer.  So how can you know if the products you are using at home may be causing you harm?  The EWG (Environmental Working Group) Skin Deep online database allows you to determine how hazardous the ingredients are in any given product.  They rate products in their relation to cancer, developmental and reproductive toxicity, allergies and immunotoxicity and use restrictions.  Products rated as 3 or higher are considered a moderate to high hazard.
As with food, I like to know what ingredients are in the cleaning products I use.  I opt for more natural products which are less likely to be filled with harmful ingredients that might impact my performance.  Below is a list of my favourite cleaning and laundry products.
Vinegar and Eucalyptus Oil Spray
I make my own multi-purpose cleaner by mixing white vinegar and 2 to 3 drops of eucalyptus essential oil in a spray bottle.  Vinegar inhibits the growth of mould, mildew and bacteria and eucalyptus is well known for its antiseptic and antibacterial properties.  I use this spray as a general cleaner for the kitchen benches and cupboards, toilet, bathroom hand basin and cupboards.
Bicarb Soda
Bicarb soda, or baking soda, helps to regulate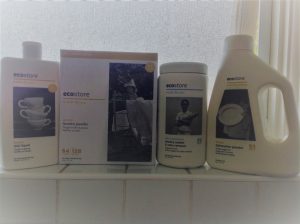 the pH level of a substance.  It has a neutralising effect, making a substance more acidic if it is too alkaline and vice versa.  Bicarb soda helps get rid of acidic odours and neutralises the pH of laun
dry water (helping your laundry powder to work better).  I use bicarb soda when cleaner tougher stains on bathroom tiles and sinks or to unclog drains.  I apply the bicarb soda (up to ½ cup), spray on my vinegar and eucalyptus spray and let the mixture sit for 20 to 30 minutes before scrubbing with a cleaning brush.  You can also use bicarb soda to clean your bed mattress.  Simply remove the sheets/bed cover, shake over 1 cup of bicarb soda, leave for 2 hours and then vacuum up!

Ecostore
Ecostore is a New Zealand based company which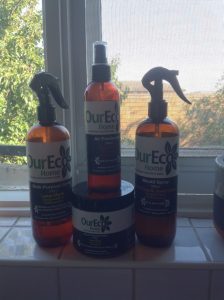 have a great range of natural cleaning and beauty products.  They use sustainably-sourced plant and mineral based ingredients which don't contain potentially harmful substances.  I personally use their laundry powder, stain remover, dishwashing powder and dishwashing liquid.  I have dry and sensitive skin and find that I don't react to these products as I do with more well-known brands.  Eco store products are available in Woolworths and most health food stores.

Our Eco Home
This is an Australian made and owned company whose products are biodegradable and made from 9 natural ingredients.  They use essential oils in place of fragrance in their products (the lemon myrtle smell is divine!).  I personally use their multi-purpose spray, bicarb cleaning paste, mould spray and air freshener.  Contrary to some natural cleaning products I've tried, their products actually work.  The bicarb cleaning paste is my favourite and is great for cleaning the shower, bath and inside of the oven.  Our Eco Home products are available in some IGA's, health food stores and Foodworks.
Microfibre Cloths
Microfibre cloths are a great way to reduce waste and save money on disposable cleaning items.  They can be used on their own with water, or with a natural spray.  I bought this pack of microfibre cloths from Woolies which has different colour cloths for the bathroom, kitchen, glass, dusting and a multi-purpose cloth.  Once dirty, you simply wash the cloths and re-use.  I also have this mop with a microfibre head which makes it super quick and easy to mop floors.
What are your favourite natural cleaning products or tips?  I'd love to know – please leave a comment below!