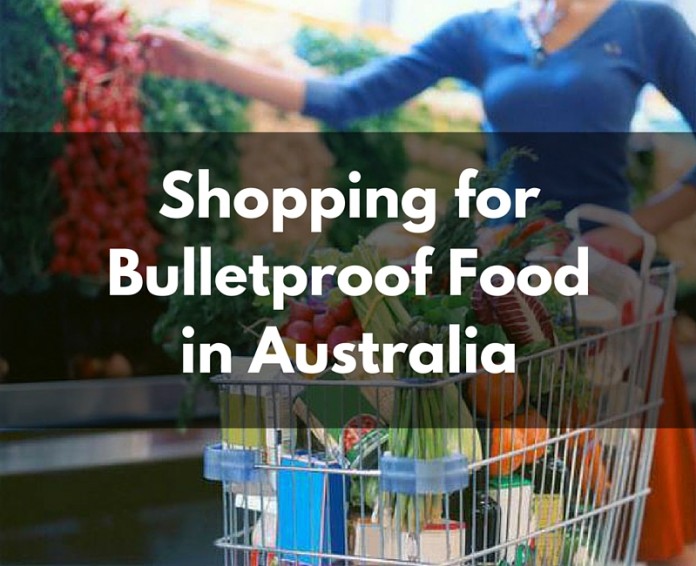 Here are the most frequent questions we come across on shopping for the Bulletproof Diet in Australia:
Q – Which brands of butter are grass-fed in Australia?
A – Pepe Saya, Organic Times, Paris Creek, Westgold, Myrtleford, Woolworths Homebrand, Primal Collective (ghee), True Organic, Mainland Organic and Ashgrove. Here's a more detailed article on buying grass-fed butter in Australia.
Q – Is salted butter OK?
A – Many people don't enjoy the taste of salted butter in Bulletproof Coffee as it makes the taste strange. Also, you want real sea salt rather than just chemically synthesised sodium chloride. The only way to ensure this is to find grass-fed unsalted butter and add your own salt to it. Salt is important in a low-carb diet to replenish sodium levels. Low-carb diets lead to a reduction in insulin levels, which leads to the kidneys shedding too much sodium. In turn, salt is an important supplement to use when on this type of diet. (1)
Here's a tasty variation for Bulletproof Coffee that includes salt. (Note that this also includes maple syrup, so it's not OK if you're trying to maintain ketosis) 
Brew 1 cup (8-12 oz.) of coffee using filtered water, just off the boil, with 2 1/2 heaping tablespoons freshly ground Bulletproof Coffee Beans

Add in 1-2 tablespoons of Brain Octane oil to the hot coffee

Add 1-2 tablespoons grass-fed, unsalted butter

A pinch of sea salt
1 teaspoon of maple syrup
1 tablespoon of collagen hydrolysate

Mix it all in a blender for 20-30 seconds until it is frothy like a foamy latte
Here are some more Bulletproof Coffee recipe variation ideas.
Q – Where do I find genuine grass-fed meat?
A – Grass fed beef and lamb is somewhat easy to buy at most supermarkets including Coles, Woolies, Aldi and Harris Farm. However, as you can imagine, these are mass-market options (with the possible exception of Harris Farm). Here is a starting list of butchers that source directly from their local farms and can offer full source traceability. These stores  are usually also good sources of pasture-raised bacon! If you know of others not on this list, let us know and we will happily support them.
Grass-fed meat in Sydney:
Grass-fed meat in Melbourne:
Grass-fed meat in Brisbane:
Grass-fed meat in Adelaide:
Grass-fed meat in Hobart:
Grass-fed meat in Bondi:
Grass-fed meat in Crows Nest:
Grass-fed meat in Alexandria:
Grass-fed meat in Bateman's Bay:
Q – If the meat is organic, does that mean it is grass-fed?
A – No. And grass-fed doesn't mean organic. To make matters worse, organic doesn't mean 100% organic or biodynamic either.
Q – Can I replace butter with a non-dairy fat source?
A – Yes! Ghee is recommended – It is a 99% lactose and casein free option.
Stay tuned for Part 2 of our FAQ! For more Bulletproof tips, check out the Bulletproof Executive Blog.
Stay Bulletproof!