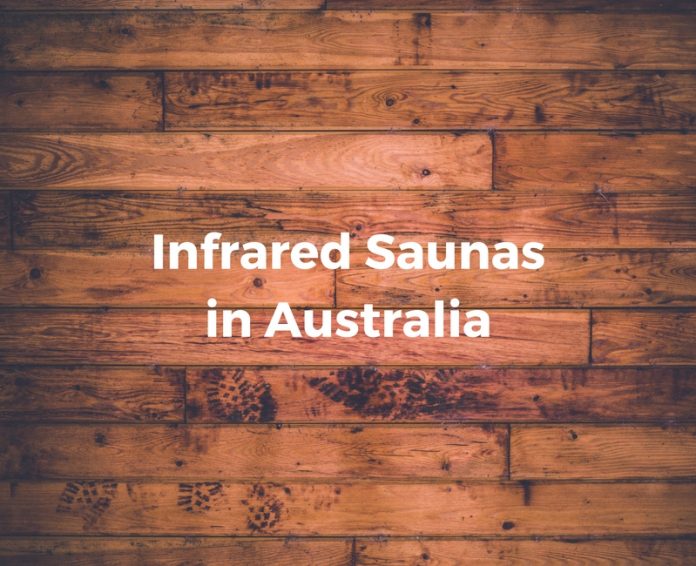 I sit alone, staring at my own reflection, with a soft amber glow around me.  The air is warm to breathe and smells faintly of lemon, wood and oak.  A drop of sweat runs down my back and I feel another one forming on my forehead.  I inhale deeply as the air grows warmer and warmer, and  I feel a sense of deep peace.  A soft smile dances on the corner of my lips as one of my favourite songs floats out of a small speaker behind me.  Where might I be you ask?  In an infrared sauna of course!
Saunas are one of the most effective biohacking tools you can get your hands on, and there are a ton of infrared saunas in Australia!  Saunas have been around for centuries.  Sauna is an ancient Finnish word which refers to a traditional Finnish bath or a bathhouse.  Finland is where saunas first gained popularity and almost every home in Finland today still features a built-in sauna.  Most of us have probably had a sauna at some stage, either at our local gym or at a hotel.  Infrared saunas are now coming into vogue in the health and wellness industry and are one of the best ways to relax and detoxify the body.
What is an Infrared Sauna? 
The primary difference with infrared saunas is the heating method they use.  Conventional saunas (such as those found at your local gym or at a hotel) warm the air around you. Infrared saunas, on the other hand, use infrared heating which heats up your body's core temperature at the cellular level.  This makes them more effective at penetrating tissue and reaching stores of toxins in the body.
Infrared saunas heat up your body temperature and make you sweat at a much lower temperature than traditional saunas.  Therefore, most people find infrared saunas more comfortable than conventional saunas.  There are three different wavelengths of infrared heating – near, mid and far.  Used at certain frequencies, these  wavelengths can produce different health benefits.  The most common or well know spectrum used is far infrared.
Benefits of Infrared Saunas:
Studies on infrared saunas have shown numerous benefits including:
Detoxification;
Relaxation;
Longevity and increased heart health;
Reduced joint pain (e.g. for patients with arthritis);
Weight loss; and
Athletic recovery (including relief of muscle soreness).
My Experience with Infrared Saunas:
Personally, I've only tried infrared sauna a few times (early this year in the lead up to my wedding).  I felt really relaxed and at peace during and after the sauna.  I found that it was a great way to unwind from a busy day at work.  I was able to attach my iPhone (outside the sauna) and have music or a podcast playing during the session.  I noticed that my skin felt really soft following the sauna and my stomach even seemed flatter the following day (possibly as a result of reducing inflammation and toxins in the body).  I did find the heat more bearable than traditional saunas (which usually give me headaches).  I sweated a fair bit during the sauna, so I suggest you have plenty of water to drink before and after the sauna to keep hydrated.
Infrared Heating Alternatives:
Some hot yoga studios are now using infrared heating.  I attend Pilates and yoga classes at Harlow Yoga in Brisbane, who have infrared heating in their Milton and Newstead studios.  I find their classes much more enjoyable than other hot yoga places I have tried and always walk out feeling refreshed and rejuvenated.  I try to attend a class (or two) per week.
There are also infrared lights that you can buy (however I have not personally used these myself).
Length & Frequency of Infrared Sauna Sessions:
Infrared sauna sessions are typically 30 minutes in length but can go up to 2 hours long.  If it's your first time, it's best to start with 15 to 20 minutes and then increase the time from there.  The longest session I've done is 45 minutes.  To gain the benefits of infrared saunas you should have one at least once a week and there is nothing wrong with having one every day.  However, if you don't own a sauna (or know someone who does) this can get quite expensive!
Local Infrared Saunas in Australia:
Below is a list of places that offer infrared saunas (per capital city).
Infrared Saunas in Queensland
A1 Colon Hydrotherapy, with clinics at:
Brisbane North – 33 Kildonan St, Aspley
Brisbane West – 46 Donatello Drv, Fig Tree Pocket
Brisbane Central – Daily Life Centre – Crn Doggett Street & Proe Streets, Fortitude Valley (side entrance only in Proe Street)
Oxenford – 61 Brittany Dr, Oxenford
Hypoxi Body Boutique Bulimba, located at 1/122 Lytton Road, Bulimba.  There are also Hypoxi clinics at Southport (Shop 10 Southport Park Village, 175 Ferry Road) and Burleigh Heads (Shop 38 Big B Arcade, 50 James Street).
Brisbane Float & Massage, located at 12/600 Sherwood Road, Sherwood.
Health & Healing Wellness Centre, located at 60 Lodge Road, Wooloowin.
Gold Coast Holistic Dental Centre, located at Suite 1 3027 The Boulevard, Emerald Lakes.
Ka Huna Massage, located at Mumdjin Court, The EcoVillage, Currumbin Valley.
Infrared Saunas in New South Wales
Alkaline Spa & Clinic, located at Shop 7, 91 Macleay Street, Potts Point
Awareness Institute, located at Suite 1/20 Clarke Street, Crows Nest
Colon Care Centre, with clinics at:
Bondi – 167 Bondi Rosf, Bondi
Randwick – 67 Frenchmans Road, Randwick
Surry Hills – 410 Elizabeth Street, Surry Hills
Kogarah – Suite 5, 13-19 Hogben Street, Kogarah
Health Space, located at 33 Bayswater Road, Potts Point
Oriental Spa Chatswood, located at 1/67 Archer Street,  Chatswood
Nimbus and Co, located at 97 Bondi Road, Bondi Beach
Infrared Saunas in Northern Territory
Training for Warriors Darwin, located at 3/40 Cavenagh Street, Darwin
Infrared Saunas in South Australia
Bamboo Day Spa, located at 88 Walkerville Terrace, Walkerville
Swiss Wellness Spa and Skincare, located at 125 King William Road, Hyde Park, South Australia
Adelaide Healing Energy Centre, located at 192 Prospect Road, Prospect
Fit Life Gym, located at 42 Warwick St, Enfield, Adelaide
Infrared Saunas in Victoria
Norbu Urban Retreat, located at 637 Chapel Street, South Yarra
D-Tox Box, located at Level 1/110 Swan Street, Richmond
Silk Natural Wellbeing, located at 786 Burke Rd, Camberwell
Brunswick Holistic Health, located at Hardwick Building, 22 Tripovich Street (cnr Ballarat St), Brunswick
Sunlighten Sauna, located at 359 Clarendon Street, South Melbourne
Infrared Saunas in Tasmania
Jun Lin Chinese Massage and Oriental Spa, located at  23 Magnet Court, Sandy Bay
Sharkra Medi Spa, located at Level 2, Trafalgar on Collins, 110 Collins Street, Hobart,
Infrared Saunas in Western Australia
Body Wisdom, located at 176 Scarborough Beach Road (corner Coogee Street) Mt Hawthorn
Keturah, with clinics located at:
Carine Glades Shopping Centre – Suite 12 Carine Glades Shopping Centre, 6 Davallia Road, Duncraig
Highgate – 500 Beaufort Street, Highgate
Freemantle – 22 Queen Street, Fremantle
Nedlands – 133 Stirling Highway, Nedlands
Detox Centre Perth, located at 1/158 Cambridge Street, West Leederville
Is going in an infrared sauna something you incorporate into your biohacking routine?  What do you use infrared saunas for?  We'd love to know so please leave a comment below 🙂