These nutrient-dense chocolate bites feature a concentrated protein from grass-fed collagen as well as healthy fats from the coconut/brain octane oil. When it comes to getting a boost of protein and amino acids, I recommend high-quality, grass-fed collagen. I use and recommend Bulletproof's Upgraded Collagen – it's a great way to increase your intake of highly digestible, nutrient-dense protein. It's also an easy addition to keto recipes such as; slices, bliss balls, smoothies, bulletproof coffee and other hot drinks, pancakes, muffins, juices and more.
Collagen Benefits Include;
Supports skin, nails, teeth and hair health
Supports hormone balance
Supports joint and bone health
Supports digestion and satiety
Boosts mood
Aids sleep
Aids liver detoxification
**Warning** these little bites are very addictive. I have made them 5x in the past 2 weeks and each batch hasn't lasted more than 2 days. 
Ingredients
1 Tbsp cacao or 

chocolate

 powder 

1/3 cup 

collagen powder

1 Tbsp 

Brain Octane Oil

 

+ 1 Tbsp 

Coconut Oil

 (or use 2 Tbsp coconut oil) 

A pinch of salt

1/2 tsp 

vanilla powder

1 cup cashews, almonds or brazil nuts

Liquid stevia to taste

2 heaped tsp inulin powder (inulin is a prebiotic which means it's food for probiotics, this is optional, you can sub this with 1 tsp of cinnamon instead, or omit entirely)
Method
Add all ingredients to a good quality food processor or Thermomix and blitz together until well blended and the mixture begins to come together (don't worry if it's a little crumbly).
Line a small container with baking paper and press the mixture into the container evenly.
Place in the freezer until set.
Slice into squares or triangles and store in the freezer.
To up the sweetness factor, you can also try dipping the chilled bars into melted dark chocolate if desired.
Credit
Jordan Pie – Qualified Nutritionist + Certified Gaps Practitioner.
Instagram | Website: Life of Pie
Summary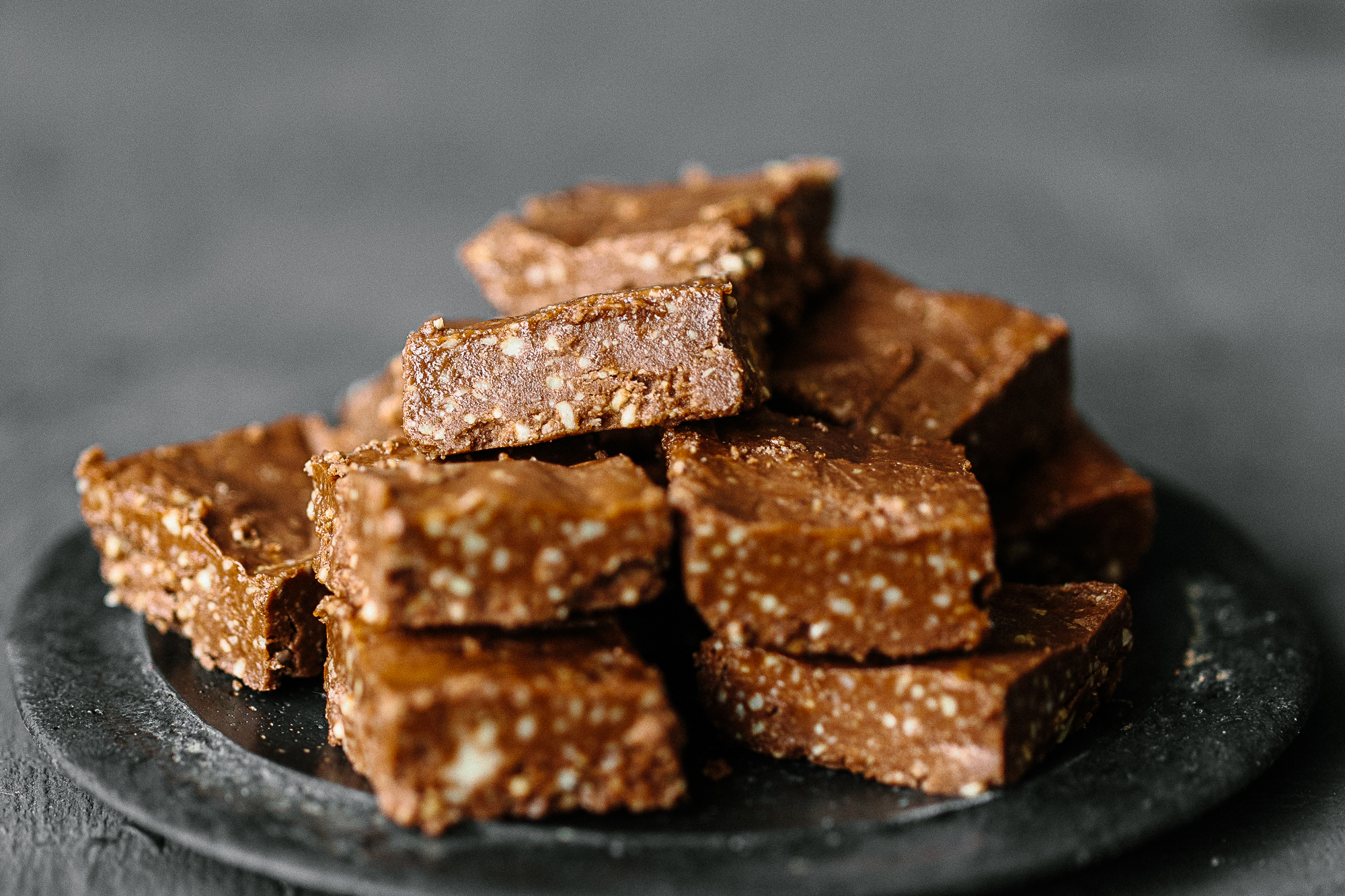 Recipe Name
Keto Chocolate Protein Bites
Published On
Preparation Time
Cook Time
Total Time