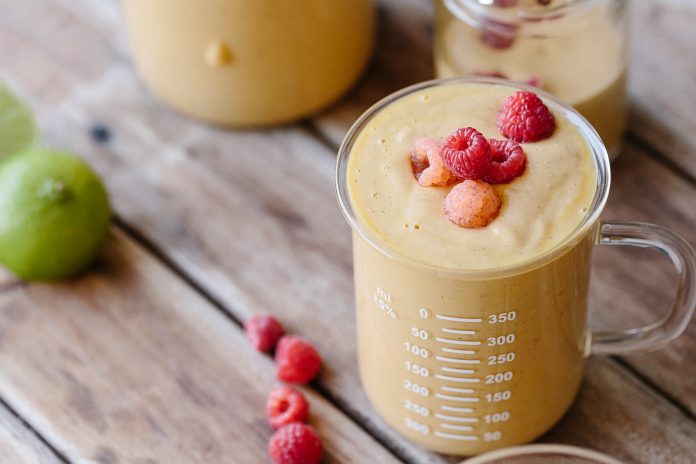 I'm one of those weirdos that adds turmeric to as many different types of dishes as humanly possible. I don't just add it to savoury dishes like curry and spice or marinade mixes; I also love adding it to sweet dishes too, like panna cottas, ice cream, smoothies, biscuits and more.
Turmeric is one of the healthiest foods on earth as it contains amazing anti-inflammatory properties. Some of the other health benefits associated with turmeric include;
Aids liver detoxification

Rich in antioxidants

Natural pain relief

Aids in alleviating arthritis

Improves brain function

Used in treating depression

Contains antiseptic and antibacterial properties

Prevents certain types of cancers

Aids in lowering blood sugars and more
I'm constantly recommending my friends, family and clients to incorporate turmeric to as many different types of foods as they can. An easy place to start is with a smoothie. Smoothies are great way to sneak turmeric in, plus you can also add in some beautiful supplements in too.
I make a few different variations of the smoothie below, but something that never changes is that I always add in grass-fed collagen powder. It's a beautiful source of highly digestible protein; it provides the body with amino acids, promotes gut, skin, hair, nails, teeth and brain health as well as supports a restful sleep.
I usually stick to green smoothies, however as it's summer here in Australia, there are mangoes left, right and center. Everywhere you go you can always seem to smell their beautiful scent. If I add fruit into my smoothie, I always add in a few Tbsps of Brain Octane Oil. Because fruit is a natural source of sugar the added oil will help to slow down the absorption of sugar, so you can have sustained, even blood sugar levels without any of those nasty, uncomfortable symptoms, such as shakiness, dizziness or being 'hangry.' The Brain Octane Oil also provides a fast energy source as well as getting rid of brain fog and improving brainpower.
This smoothie recipe is seriously delicious. It's so quick and easy to make and is also packed with loads of nourishing, nutrient-dense ingredients.
Mango & Raspberry Summer Smoothie with Turmeric & Lime
Serves 2-4
Ingredients
2 ripe mangoes

½ cup raspberries + extra for garnishing

½ – 1 tsp turmeric

½ cup cashews or macadamias (soaked overnight)

1 tsp

vanilla powder

3 Tbsp coconut butter (optional)

¼ cup

collagen powder

2-4 cups coconut milk or filtered water (or a mixture)

Juice of 2-3 limes

2-3 Tbsp

Brain Octane Oil

Liquid stevia to taste if desired

Method
Add the mango flesh, raspberries, turmeric, soaked nuts, vanilla, coconut butter, collagen, lime juice, Brain Octane Oil + 2 cups of coconut milk or water to a high speed blender.

Blitz everything together until completely smooth and creamy.

Add more coconut milk or water to the blender if the smoothie is too thick. Re-blend until you reach your desired consistency.  

Taste the smoothie and add a few drops of liquid stevia to taste, if needed.

Pour into glasses and enjoy.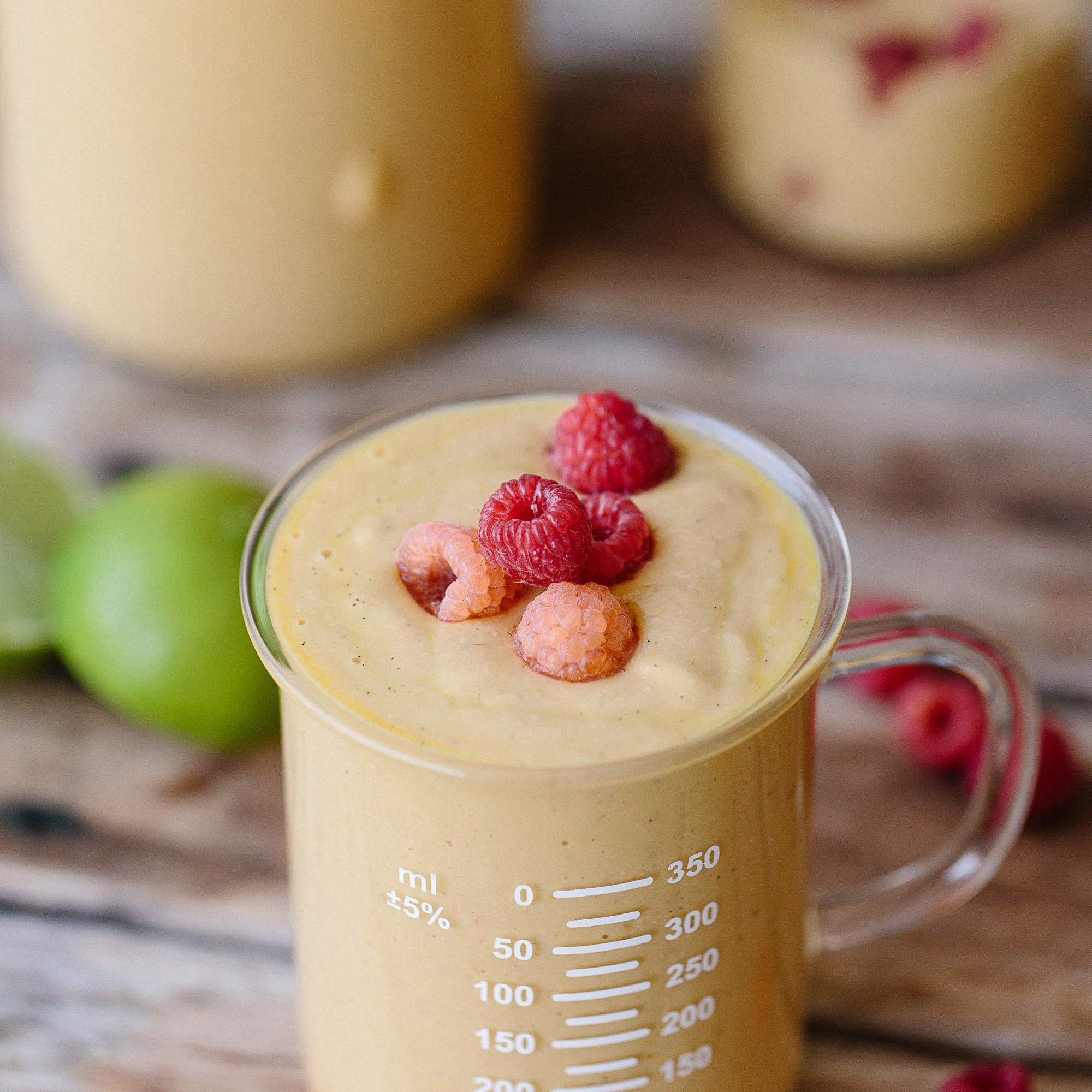 Credit
Jordan Pie
Holistic Qualified Nutritionist + Certified Gaps Practitioner.
Summary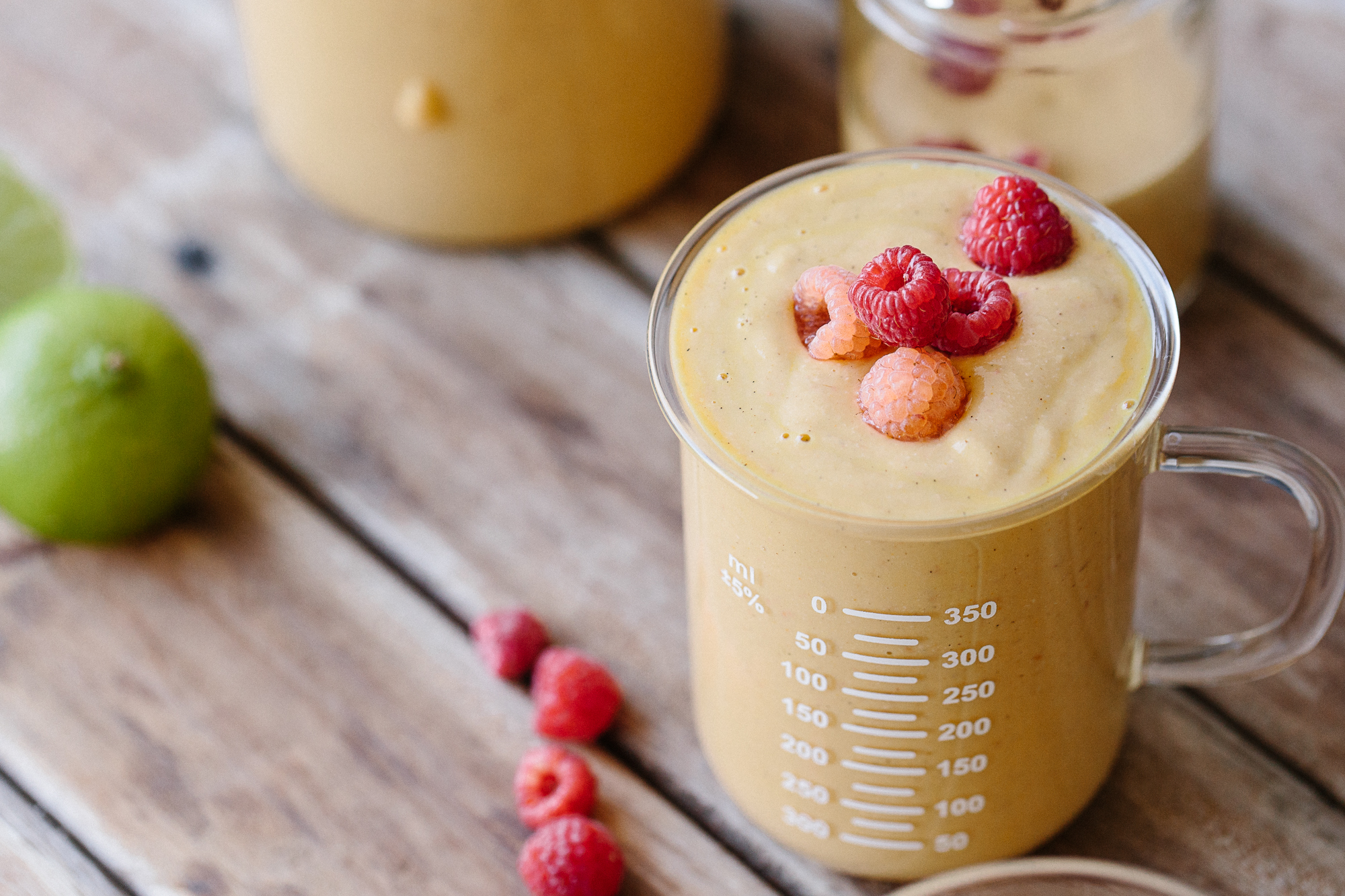 Recipe Name
Mango & Raspberry Summer Smoothie with Turmeric & Lime
Published On
Preparation Time
Cook Time
Total Time